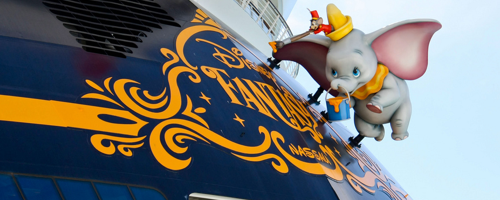 Travel Dates: January 20 – December 31, 2013
Disney Cruise just announced a special booking incentive for future Disney Cruises. Just book a cruise prior to December 16, 2012, and you pay 50% of the normal deposit costs.
Please note that for most Disney Cruises, the deposit is due at the time of booking, with the balance due 75 days before sailing. Some suites have different payment policies. If you are booking for a cruise that sails within 75 days, this offer will not help you, as the full amount will be due at the time of booking.
Also note that this is technically not a discount, while you will only be required to pay half of the normal deposit at the time of booking, the amount that has been waived will still be due when you pay your final balance.
The deposit requirements for most staterooms is a 20% deposit. This is 20% of the cruise fair, not including taxes, so the deposit amount is always a bit less than 20% of the full fare. This offer allows you to book a cruise with only a 10% deposit.
This offer is available for new bookings only. The deferred deposit amount is due at time of final payment.  Cancellation fee based on original deposit amount (not 50% promotional deposit amount).  Subject to availability. This offer can be combined with other Disney Cruise offers like the Kids Sail Free and Galveston Veranda Offers.
To book this Disney Cruise reduced deposit special, please contact our sponsor Mouseketrips.