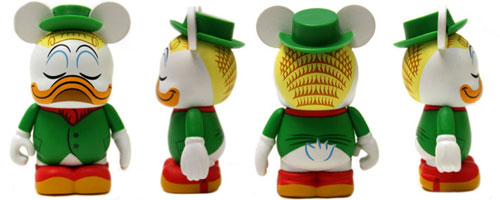 As you may or may not know, we at MouseMisers are huge vinylmation fans. Vinylmation are a great and inexpensive souvenir for kids and adults alike. We at MouseMisers are giving you the chance of winning a hard to find, D23 exclusive, Gladstone Gander vinylmation. This vinylmation was only on sale at the recently concluded D23 Expo, and is a limited edition of 1,200. Gladstone sold out in a a few minutes, and is very hard to come by.
Whether you love vinylmation or not, everyone loves winning something! It is very easy to win, just follow the rules:
Visit the MouseMisers Facebook page and "like" the contest post
Write a comment on the post about which obscure Disney character you feel should have their own vinylmation
The winner will be randomly chosen on Friday, September 2, 2011. As long as you complete the two items above, you will be entered into the random drawing.  Good luck to all!
Gladstone Gander is the son of Daphne and Goosetave Gander. Gladstone first appeared in the story "Wintertime Wager" in Walt Disney's Comics and Stories#88 (January, 1948). Gladstone is a lazy and infuriatingly lucky goose who never fails to upset his first cousin Donald Duck. Gladstone's luck defies probability and provides him with anything he desires, with hardly the need of effort. Gladstone is also considered among the prime candidates for Scrooge McDuck's succession. For all of these reasons, he and Donald have formed an intense rivalry with each other.