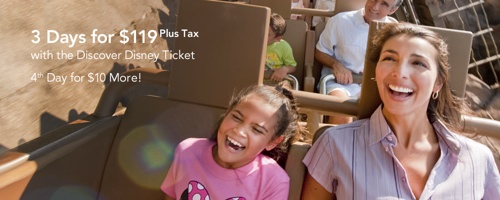 Travel Dates: January 7 – June 7, 2013
Walt Disney World has introduced a new Florida resident 3 day pass, entitled the Discover Disney Pass. For $119 per person plus tax, you get a 3 day basic park pass to use at the four Disney theme parks. Disney is also offering a Discover Disney Pass for 4 days for $129 per person plus tax, which will give you one more day to use. The park passes are base tickets, so one theme park per day. Park Hopping and the Water Park Fun and more options can be added to the tickets for $28.50 per person per add-on (the hopping would be $28.50, the water parks, $28.50.).
The tickets expire June 7, 2013, so you can make multiple trips over a few months on one pass. The tickets are valid any day at any of the Disney theme parks, except during the black out periods. The black out dates are between March 23 – April 5, 2013. The Discover Disney Passes must be purchased by June 3, 2013.
Proof of Florida residency required at time of purchase and activation. For more information, please see the Discover Disney Pass page. Walt Disney World is also offering FL Resident room only discounts for some of this time period as well.