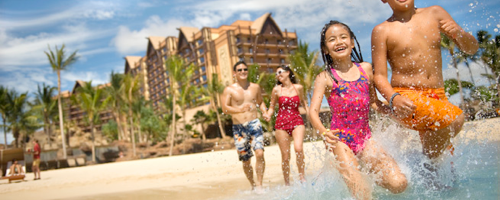 Travel Dates: August 26 – December 15, 2013
Disney's Aulani is offering a new special, currently for Disney VISA cardholders only, for Fall 2013 travel dates. Book 5 nights for the price of 4, and also receive a $100 resort credit to use during your stay.
This promotion, 5 Nights for the Price of 4 Nights with $100 One-Time Resort Credit offer, is for guests who stay five or more consecutive nights all between August 26, 2013 through November 23, 2013 or December 1, 2013 through December 15, 2013. 5 Nights for the Price of 4 offer excludes Ocean View rooms, Ocean View Villas, suites and 3-Bedroom Grand Villas. Save 15% with $100 One-Time Resot Credit offer is for Ocean View rooms and 1 and 2 bedroom Ocean View Villas offer for guests who stay five or more consecutive nights during the same periods. No stays for either offer may include any days between November 24, 2013 and November 30, 2013. Must book by September 3, 2013. Savings based on non-discounted room rates. The number of rooms allocated for these offers is limited, and room availability may vary by dates of stay. Excludes resort fees and taxes. Not valid in combination with any other discounts or offers. Additional per adult charges may apply if more than two adults per room. Offer applied once per reservation. Advance reservations required. Deposit must be made at the time of booking with your Disney Visa Card. Limit two rooms per reservation. Subject to additional restrictions and change without notice.
Aulani also recently brought online some upgrades and changes at the resort. Since opening last year, Aulani, A Disney Resort & Spa, has proven to be a popular vacation destination in Hawai'i. To make the Aulani Guest experience even better, the Resort is expanding its current amenities offerings. Planned expansions include:
An additional pool, toddler pool and interactive water play area
18,500 additional square feet of pool deck
Two new, convenient quick-service dining locations, including a beach kiosk
The addition of a retractable trellis cover at the signature Makahiki restaurant to allow for outdoor seating during any weather conditions
An expanded Starlit Hui venue, allowing even more Guests to enjoy this popular show
Another beach access point will be added
Aulani offers fun for everyone in your family.
For families with younger children and toddlers, take advantage of amenities like:
Our secluded beach with a calm lagoon, perfect for young swimmers
Family fun entertainment that toddlers will enjoy, such as Ohana Movie Nights featuring favorite Disney movies
Disney Character experiences, such as Character Breakfast at Makahiki
And for the school-aged children and teens, create your adventure with activities such as:
Water activities including swimming and paddleboarding in the ocean, enjoying pools and slides, and snorkeling at Rainbow Reef, the only private snorkeling lagoon on O'ahu
World Class Entertainment like Starlit Hui, an evening celebration that blends Disney storytelling with Hawaiian traditions
Aulani also offers the perfect Hawai'i vacation for adults and couples because it features an idyllic setting, exceptional quality and service, and incredible experiences and entertainment, including:
Laniwai Spa
Nearby Championship Golf at Ko Olina Golf Club, where Aulani Guests enjoy special discounts
Beachside Dining at 'AMA 'AMA
Sunset facing whirlpool spas
Plus, when you stay at Aulani, entertainment benefits are part of your room price.
Please note this offer will be made available to the general public (no Disney VISA will be required) on July 10, 2013.
For more information about Aulani, or to book this special offer, please contact our great sponsor Mouseketrips.