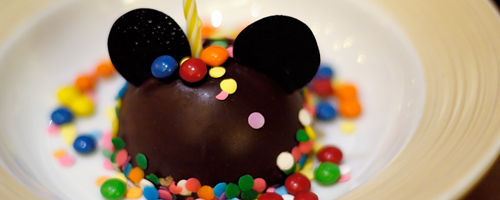 Normally, here are MouseMisers, we only cover general public Disney discounts, basically a discount that anyone can book. While some may have some restrictions on them, such as limited to Annual Passholders or Florida Residents only, for the most part, the discounts are available to everyone. We are breaking with tradition a bit today, and covering a new PIN code that Disney World has been sending out for Free Dining.
Late yesterday afternoon, the first wave of PIN codes were emailed out to potential guests, we hope to shed some light on what the PIN code is offering, how you may get one, and how to use it if you do get one.
What is a PIN code?
A PIN code is a discount sent directly to you from Disney, either by email or a post card. Rather than opening up a discount to everyone, they target individuals. We wrote a fairly lengthly post about Disney PIN codes here:
What about the new Fall Free Dining PIN Code?
Disney World has starting sending out PIN codes for Free Disney Dining for many Fall 2013. You must check in on one of the following dates:
August 25 – October 2, 2013
October 18 – 31, 2013
November 11 – 23, 2013
November 30 – December 4, 2013
December 15 – 22, 2013
The discount is the same as the Free Disney Dining released for September yesterday, just with expanded dates. If you qualify, you will receive free Quick Service Dining at the value hotels, free Disney Dining at the moderate, deluxe and villa resorts.
How do I use the Free Dining PIN code?
As with any other Disney discount, just call your Travel Agent or Disney directly to check on prices and availability. I might suggest Mouseketrips, they are experts in PIN codes and Disney discounts.
There are a few restrictions on this Free Dining PIN code, similar to others in the past.
You must personally receive a PIN code. You CAN NOT use someone else's code. If your neighbor or Aunt gets a PIN code, you can't use it. You also can't buy on ebay nor can someone "give" you their PIN code.
The person who receives the PIN code must be on your reservation. If your Aunt gets a PIN code, and is coming with you to Disney World, then you can use it.
You must check in on one of the available dates. Only your check in date matters, none of your other dates matter. So, if you check in December 22 for 10 nights, you get free dining for your entire stay. If you check in December 14, you get nothing.
You can book up to three rooms with each PIN code. Again, the person who receives the PIN code must be on one of the reservations.
You must stay a minimum of three nights, maximum of 14 nights, and everyone in your party must purchase a minimum 2 day park pass.
The Little Mermaid rooms at Art of Animation are not included, nor are the campsites and 3 bedroom villas. Other resorts may or may not be included for all dates, and everything is always subject to availability.
How do I get a PIN code?
This is one of those eternal mysteries, no one really knows the answer. Disney does not divulge how to get on their "list". Many guests go to Disney twice a year for 20+ years and never get one, and others have never been, and get several a year. There are a few things you can do to increase your chance. Basically, you need to let Disney know you want to go to Disney World, and are working on going.
I would suggest you do at least these minimum steps:
Head on over to disneyworld.com and log in with your Disney account. If you do not have one, create one today. Disney is moving all of their dining and other reservations to be associated with this account, you are going to have to have one in the future if you want to plan anything with your future Disney trips.
Update your profile, make sure it is completely up to date, including correct name, †home address, email address, etc. There are quite a few tabs there, update as many as you can, including past WDW vacations and Disney Vacation Preferences. The more info the better.
Request a "Free Vacation Planning DVD". There should be a link on just about any page you go to.
Head over to the "Plan Your Vacation" and plan out 4 or 5 different options for your family, slightly different dates, resorts, park passes, dining, etc. Save them all to your profile. Make sure the vacations you are planning are during the time you want a PIN code for.
Consider booking a few dining reservations during your proposed travel dates. Make sure you cancel them in a few weeks if you decide you are not going.
Come back a week or two later, and plan a few more vacations, around the same travel dates, maybe with different hotels and save as many as you can.
Keep coming back every few weeks and plan a few more vacations and save them.
What if I don't get a PIN code
Please note that PIN codes are usually send out in waves. So, they will target a large group, usually by email and send out a big chunk of codes, and then sit back and wait. After a few days (or more), they will determine how bookings are going, and then send out a second wave to additional guests, and so on until they are satisfied with bookings. So, if you didn't get one today, don't fret yet, this offer just started.
It is completely possible, and I have seen this a lot, Disney may have a PIN code for you, but for one reason or another, it didn't make it to you. Maybe you moved, or changed your email address, or you have a really strict spam filter. Feel free, in a few days, to give Disney a call. Just ask them if they have a PIN code for you for the Fall Free Dining. They can look you up by name, address, email address, etc. Most of the time, they will not have something for you, and please don't beg, the agents can't add you to the list. If you are chosen, you are chosen. If not, just keep trying the tips above, you never know.
Please note, there may be a few different versions of the PIN code out there, some may be for less dates, or less of a discount. If you receive a different PIN code, can you please let me know? Thanks!
What does this mean for Fall Discounts?
While there has been precedence of Disney releasing a PIN code for a set of dates, and then releasing the same discount to the general public, it is very rare. Typically, they will release a really good discount via PIN code and book up the rooms/dates they want to book, and then will follow up later with a less attractive general public deal, which usually covers more dates, but isn't as good of a discount. So, at this point, my expectation is that this PIN code will go on for a while, through a few waves and then will go away. We will then probably see October – December discounts at some point this Summer, most likely a room only discount, 20 – 30% off, but should cover most Fall dates, including those not included in the Free Dining PIN code offer. Please note, this is my own opinion based on 12+ years of dealing with Disney and discounts, and is not based on any insider knowledge. Think "educated guess".