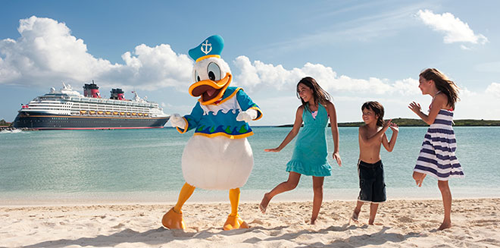 Travel Dates: November 1 – December 18, 2013
The Disney Cruise Line is now offering select Castaway Club Members a special onboard credit offer when they book a 4 or 5 night Bahamian Disney Cruise from Miami on the Disney Magic during the travel dates listed above. You can use the onboard credit for a variety of onboard activities and experiences, including spa treatments, shopping, adults-only dining and more!
Please note that currently the November 24 and December 8, 2013 cruises are not eligible for the onboard offer.
Platinum and Gold Castaway Club Members will automatically receive the $100 onboard credit when booking an applicable sail date or reference the booking code SAIL.
Silver Castaway Club Members must have sailed on four Disney Cruise Line sailings in order to be eligible for this offer. To book this offer, if you are an eligible Silver Castaway Club Members, please contact Disney Cruise Line Reservations and reference the booking code VIP.
If your Castaway Club membership status is unknown, feel free to call Disney Cruise Line to inquire. Everyone who sails on a Disney Cruise is added to the Castaway Club at no cost, and there is no fee to continue in the "club". Each additional Disney Cruise sailing you take changes your status. Gold membership is reached at 5 cruises, Platinum membership is reached at 10 cruises.
Please note the important details about this offer:
The number of staterooms for this offer is limited.
Offer excludes IGT, OGT and VGT Categories with Restrictions.
This offer cannot be combined with any other offers or discounts.
Booking code SAIL for Platinum and Gold Castaway Club Members.
Booking code VIP for Silver Castaway Club Members who have sailed on Disney Cruise Line four times.
Onboard credit is per stateroom booked, nonrefundable and nontransferable.
Offer subject to Disney Cruise Line Terms and Conditions.
For more information about the Disney Cruise, or this special Miami Disney Cruise discount, please contact our sponsor Mouseketrips.