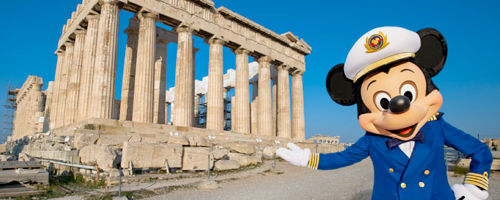 Update: June 26, 2012: Disney Cruise announced the remaining schedule for the Disney Magic and Wonder for Fall, 2013. After sailing in Europe during the summer, the Disney Magic will head to Miami and sail Western Caribbean and Bahamian cruises for the Fall. The Disney Wonder will switch to Galveston, TX for Western Caribbean sailings. More info below.
Update: November 5, 2012: Cruises on the Disney Magic from Galveston have been altered, with new offerings and destinations. Details are below.
Today, Disney Cruise Line announced the 2013 sailing itineraries for the Disney Magic and Disney Wonder. The 2013 itineraries for the Disney Dream and Disney Fantasy were announced several months ago. For 2012, the Disney Wonder is sailing to Mexico, Hawaii and Alaska on the West Coast, while the Disney Magic is sailing from New York and Galveston, Texas to destinations up and down the East Coast and Caribbean. Disney Cruise announced the 2013 schedule, departing quite a bit from the 2012 destinations.
Disney Wonder
The Disney Wonder, for 2012 is currently sailing on the West Coast to Mexico and Alaska, will continue part of that itinerary for 2013 (Alaska), with a few major changes:
Alaska – A bit of change for 2013, as the 7-night Alaska Disney Cruises will return to the port of Vancouver, British Columbia, making stops in Tracy Arm, Skagway, Juneau and Ketchikan, Alaska. These Alaska Disney Cruises will set sail weekly starting on May 27, 2013. The last cruise of the summer will set sail September 2, 2013.
Pacific Coast – On May 20, 2013, the Wonder will make a 7 night one way trip from Los Angeles to Vancouver, Canada with stops in San Francisco and Victoria, Canada.
Panama Canal – The Disney Wonder will have 2 repositioning cruises, a 14 night Eastbound Panama Canal Cruise in December 9, 2012,between Los Angeles and Miami and then another 14 night between Miami and Los Angeles on May 6, 2013 and then a 6-night cruise on September 10, 2012 from Vancouver to Los Angeles. These cruises will feature stops in San Fransisco and Victoria, British Columbia (no Victoria on the September cruise).
Miami – Starting on December 23, 2012, the Disney Wonder will make Miami her home port, sailing 4 night Bahamian Cruises and 5 night Western Caribbean Cruises through May 2, 2013. The Bahamian cruises will make stops in Key West, Nassau and Castaway Cay. The Western Caribbean cruises will stop in Cozumel and Castaway Cay, with some dates making a stop at Grand Cayman instead of Castaway Cay.
In addition, Disney has added a few special Holiday cruises from Miami in late 2012. These include a 7 night Eastern Caribbean cruise on December 23 and a 6 night Western Caribbean New Year's Cruise on December 30, 2012.
Galveston – From September 28- December 28, 2013, the Disney Wonder will sail Western Caribbean cruises from Galveston, Texas.
7-night Western Caribbean, including Jamaica
• 2013 departure dates: Oct. 5, Oct. 19, Nov. 2, Nov. 16 and Nov. 30.
• Ports of call: Falmouth, Jamaica; Grand Cayman; Cozumel, Mexico
• One of the Caribbean's best-preserved Georgian towns, your Clients can sample Falmouth's history and culture, take a trip through time on a horse-and-buggy ride, shop for arts and crafts and taste Jamaica's signature jerk recipes. Bamboo raft rides along the Martha Brae River offer exceptional views of the island's lush tropical scenery and nearby Ocho Rios is known for its spectacular Dunn's River Falls.
7-night Bahamas, including Disney's Castaway Cay
• 2013 departure dates: Sept. 28, Oct. 12, Oct. 26, Nov. 9, Nov. 23, Dec. 7 and Dec. 14.
• Ports of call: Key West; Nassau, The Bahamas; Disney's Castaway Cay
• Always a favorite port of call for Guests, Castaway Cay is the place for those seeking adventure, relaxation or quality time with the family.
6-Night Western Caribbean
• 2013 departure dates: Dec. 21
• Ports of call: Grand Cayman and Cozumel, Mexico, plus three days at sea.
4-Night Getaway Sailings
• 2013 departure dates: Dec. 27 and Dec. 31
• Ports of call: Cozumel, Mexico, plus two days at sea.
Disney Magic
The Disney Magic moved around quite a bit in 2012, from New York to Texas and everywhere in between. It looks like she will be on the move again, visiting new ports!
Galveston, Texas – Beginning on January 4, 2013, the Disney Magic will sail alternating 6 and 8 night Western Caribbean cruises, with stops including Grand Cayman and Mexico's Costa Maya and Cozumel. The 8 night cruises will also venture to Key West, Florida. The final Galveston cruise will be May 10, 2013.
Transatlantic – One of the most popular Disney Cruise is returning, the Transatlantic! On May 18, the Disney Magic will leave from Galveston on route to Barcelona, Spain, with stops at Castaway Cay, Funchal and Gibraltar! This 14 night cruise is a spectacular way to relax and get to know the ship inside and out.
Mediterranean – The Disney Magic will return to the Mediterranean once again with four unique Disney Cruises:
4 night Mediterranean Getaway – This special 4 night Disney Cruise will make stops in Nice, France and Mallorca, Spain. This cruise will only be available on July 9 and August 6, 2013.
7 night Mediterranean Cruise – Sailing from Barcelona, this 7 night cruise will make stops at Nice, Florence, Rome and Naples. Available on June 1, June 8, August 10, August 17, August 24 and August 31, 2012.
12 night Mediterranean Cruise with Venice – A unique 12 night Mediterranean Disney Cruise, with stops in Nice, Florence, Rome, Napes, two days in Venice, Dubrovnik and Malta! Available only June 27 and July 25, 2013.
12 night Mediterranean Cruise with Greece – Another Disney first, this special cruise will stop in Nice, Florence, Rome, Athens, Ephesus, Mykonos and Malta. Available only two dates, June 15 and July 13, 2013.
Miami – While the Disney Wonder will be in Miami later in 2012, the Disney Magic gets her turn in 2013. From October 20 – December 30, 2013, the Magic will sail Western Caribbean and Bahamian cruises.
Currently, there is a blank space between September 7, 2013 when the Magic completes the last European cruise and October 27, her first Miami cruise. No Trans-Atlantic has been announced either. We are currently assuming the Magic will go in dry-dock for some time to add new features to the ship.
To insure you get the best price possible, book as early as you can. Bookings for these cruises will open up January 26, 2012. For Platinum and Gold Castaway Club members, bookings will be available on January 25, 2012.
Disney Cruise has made a few flyers available with all 2013 dates, itineraries and destinations listed. Please note, they are huge. Download here at your own peril:
Disney Wonder 2012 Holiday Cruises
For more information about the Disney Cruise Line, or to book a new 2013 Disney Cruise, please contact our great sponsor Mouseketrips!