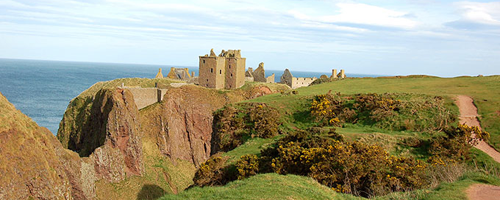 Adventures by Disney has just announced two brand new itineraries today for 2013 travel, Scotland: A Brave Adventure and Southeast Asia as well as a new version of the popular Costa Rican itinerary, now entitled Costa Rica Coast to Coast.
"A Brave Adventure" – Edinburgh, Isle of Skye, Inverness and Isle of Lewis – This 8-night quest through Edinburgh, the Isle of Skye, the Isle of Lewis and Inverness takes your Clients through the rugged Highlands, and allows them to experience Scotland's history, culture, nature, legends and lore firsthand. Plus, Guests will visit some of the incredible sights that inspired "Brave" – creating a Scotland experience that could only come from Disney.
The Scottish Highlands will come to life for your Clients through authentic hands-on activities – a hallmark of Adventures by Disney itineraries. Guests will partake in traditional highland games, make Scottish pastries, horseback ride through the Caledonian Forest, practice archery at Edinburgh's Glamis Castle and learn the art of tapestry-making at Dovecot Studios.
In addition, your Clients will visit Scotland's most treasured historical sites – including Eilean Donan and Edinburgh Castles, the ancient Callanish Standing Stones and Dun Carloway Broch on the Isle of Lewis. And, no visit to Scotland is complete without a trip to Loch Ness, where Guests will set off on a canoe expedition to search for "Nessie."
"Scotland: A Brave Adventure" combines the stories of Scotland with the magic of "Brave" for an unforgettable family vacation of a lifetime.
"Southeast Asia" – Cambodia, Vietnam and Laos – This 12-day, 11-night tour will give adventurers the chance to experience exotic culture in cities like Saigon, Hanoi, Hoi An, Luang Prabang, Siem Reap and Angkor Wat. In Cambodia, adults will have time to take in the unique architecture of the Temples of Angkor Wat while Junior Adventurers live the history of the ancient structure on a tuk tuk vehicle treasure hunt. In Vietnam, guests can expect to enjoy market shopping followed by an authentic Vietnamese cooking lesson.
All 2013 Adventures by Disney vacations will become available to book starting May 23, 2012! For more information about these new Adventures, or to get pricing, please contact our great sponsor Mouseketrips!