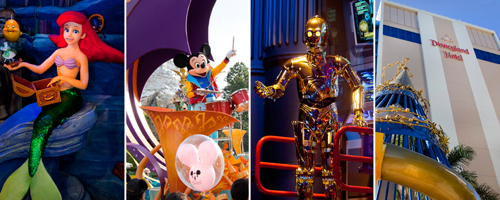 Travel Dates: June 3 – September 5, 2011
Disneyland has announced a new $139 three day SoCal ticket deal for travel to the Disneyland Resort this summer.
Southern California resident ticket: This offer is good for three park visits to either Disneyland park or Disney California Adventure park (one park per day) within a 45-day period, for residents residing in ZIP codes 90000 through 93599, and 21000- 22999. For $139, guests will enjoy three fun-filled summer days and nights at the Disneyland Resort. This offer is subject to restrictions and change without notice.
Yes, you can upgrade: For an additional $15, local residents can upgrade to a 3-day Park Hopper ticket that allows guests to visit both parks on the same day.
When you can get it: This offer is available for use June 3 through September 5, 2011 and is blocked out from July 2-4, 2011, and August 21-22, 2011.
Where you can get it: The summer ticket can be purchased at www.disneyland.com/summer, the Disneyland Resort box office, Disney Stores, Disneyland Resort hotels and a variety of southern California supermarkets and retail chains, including Vons, Albertsons, Ralphs, Stater Bros., Food 4 Less, Gelson's and Deardens. Resident ID is required.
So, a few notes. All three day on the ticket must be used within 45 days of the first use. $139 ticket is not a park hopper, just one park per day, hopping would add $15, but would cover all three days).