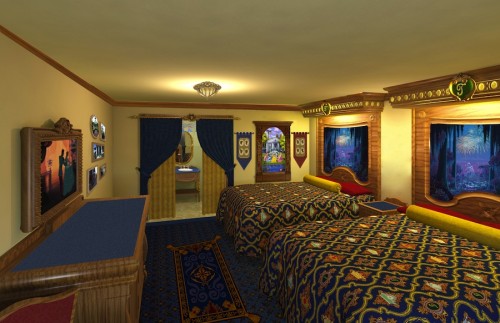 Walt Disney World is set to announce new Royal Guest Rooms at Port Orleans Riverside and French Quarter resorts. These special rooms will be available for stays starting in March, 2012, 512 of these room will eventually be available for guests.
The story behind these lush rooms is that Princess Tiana from "The Princess and The Frog" invited some of her royal pals – Belle ("Beauty and the Beast"), Jasmine ("Aladdin") and more – for a vacation getaway. Princes and princesses of all ages can enjoy their luxurious lodging quarters, which will include ornate beds that feature headboards with fiber-optic special effects, and gold and crystal accents. Guests also can enjoy artwork and special mementos left by Tiana's royal friends.
These rooms will join the fantastic Pirate rooms at Caribbean Beach. More Specialty Rooms will be added to the collection when Disney's Art of Animation Resort debuts in May 2012. Pricing will be similar to the pirate themed rooms at Caribbean Beach
Update May 18, 2011: Today, Disney World is showing off the new Royal Guest Rooms at WDW to press, and a few new photos and bits of information have emerged: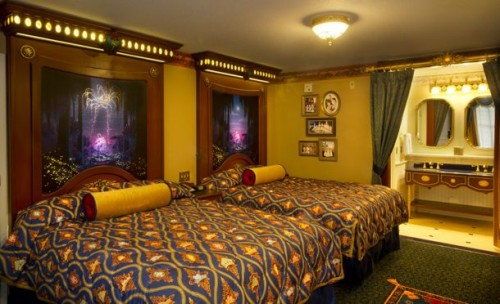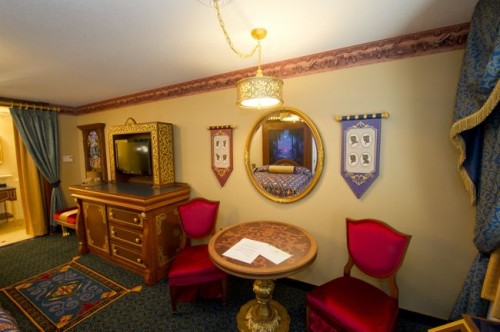 The Royal Guest Rooms feature gifts from the Disney princesses to the resort guests, including:
The carpeting in the room includes a gift from Jasmine, her magic carpet.
Jasmine has also contributed to the bathroom sinks. The faucets are gold genie lamps.
A coat rack on the wall is a gift from Cinderella, adorned with her pumpkin carriage.
Belle has provided her enchanted footstool for the room.
The shower curtain has Ariel's contribution to Tiana's royal guest room: It is adorned with her "whozits and whatzits" from her collection, like her fork and a starfish.
Tiana even left a special letter to all the little princes and princesses on the table in the room welcoming them and explaining many of the gifts in the room.
For more information about these wonderful new rooms, please contact our sponsor Mouseketrips.