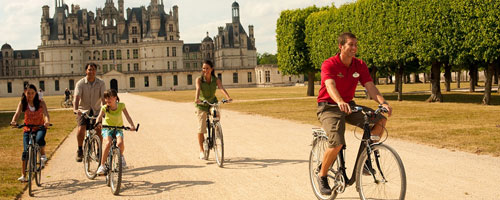 Adventures by Disney announced two brand new itineraries today for 2012 travel, Greece and Northern France, in addition to some enhanced itineraries to Australia, London and Paris, and the Galapagos Islands.
"Greek Odyssey" – Athens, Santorini and Crete – The adventure begins in Athens where Greek mythology comes to life through moonlight storytelling at the Parthenon and sporting games at the home of the modern Olympics. Discovery continues on the volcanic island of Santorini where kids go feet-first into Greek grape stomping while adults enjoy a wine tasting at Volcan winery. After sailing the azure waters of the Aegean Sea, families travel to Crete and are immersed in mountain culture with local expert-led lessons in cheese making and Greek dancing. Travel starts May 25, 2012 with the last Adventure starting September 28, 2012.
"Espirit de France" – Paris, Normandy and Loire Valley – Perfect for families looking to experience the arts, this itinerary features a drawing activity in Monet's Gardens, a visit to Château du Clos Lucé, the last know residence of Leonardo da Vinci, and a private dinner at the Louvre in Paris. Experiencing a true taste of the French countryside, adventurers learn the art of brandy-making, enjoy a countryside bike ride and spend the night in an authentic Château. The itinerary also includes visits to Versailles, Mont Saint-Michel monastery and Omaha Beach. Travel dates start June 16, 2012 with the last Adventure starting September 1, 2012.
In addition to these two brand new options for Adventurers, Adventures by Disney has enhanced several of the more popular Adventures:
Cities of Knights and Lights – ABD has expanded the Cities of Knights and Lights itinerary to include the picturesque English countryside. You will take a privately guided tour of the royal residence Windsor Castle and learn to make and read your own sundial as you unlock the mysteries of Stonehenge. In London, you will visit and enjoy an elaborate lunch at the world-famous Harrod's and see the city from a new perspective when you take a ride on the London Eye.
Discovery Down Under – Adventures by Disney is pleased to invite you back to Australia and introduce you to the island of Tasmania! They have also added exciting new activities to our Discovery Down Under trip with a tour of the Sydney Opera House, private surfing lessons at Bondi Beach and more. In Tasmania you will get to meet local characters such as wombats, wallabies, koalas, and Tasmanian Devils during a private visit to Bonorong Wildlife Sanctuary. They will take you to Freycinet National Park where you will sea kayak in Coles Bay and take a guided hike to Wineglass Bay Overlook. Tasmania adds so much excitement to the already adventurous trip, like a zipline ride over an ancient eucalyptus forest!
Grandiosos Galapagos – In addition to the existing Ecuador and Galapagos Islands trip, Adventures by Disney are now offering a new way to experience the Galapagos, a cruise of the Islands! This 9 day expedition takes you to seven different islands where you will explore lagoons, lava fields, mangroves and caves. You will get a chance to see giant tortoises, sea lions, marine iguanas, masked boobies, flightless cormorants and many more exotic species of land and sea critters as you learn about the history of the Galapagos Islands and Charles Darwin's early explorations and discoveries. There are only 5 travel dates for the Galapagos cruise, and they should fill up quickly.
But wait! The adventures don't end there, because the Egyptian Adventures "Pyramids, Pharaohs & Ancient Treasures" makes a grand return that can only be described as "fit for a king." This destination is bound to captivate the archeologist in all of us.
For more information about Adventures by Disney, or to get travel dates and prices, please contact our great sponsor Mouseketrips.