Travel Dates: October 24, 2010 – October 1, 2012
Update: April 19, 2011, Walt Disney World has just announced an extension of the Armed Forces Salut Tickets to cover through October 2, 2012, along with an extension of the military discount on the Disney World resort rooms. The ticket prices will remain the same. If you purchased your allotment of tickets during the 2011 dates prior to October 1, 2011, you are eligible for additional tickets during the 2012 dates.
Update: June 12, 2011, We have just received notice that the 2012 tickets will be basically unlimited. For travel between October 1, 2011 and October 2, 2012, eligible military members will be able to purchase an unlimited number of discounted park pases. You will be limited to purchasing 6 at a time, but no limit on the total.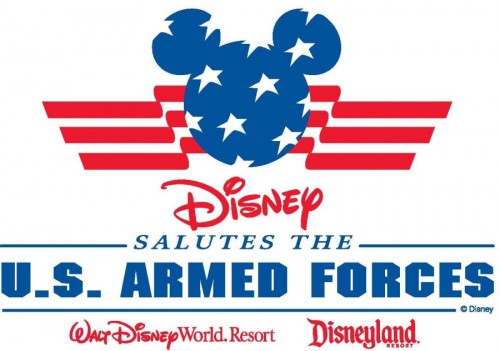 Walt Disney World has just announced that Active and Retired U.S. Military, including members of the U.S. Coast Guard and active members of the National Guard or Reservists, may purchase 4-Day Walt Disney World Armed Forces Salute Tickets for themselves and up to five (5) family members and/or friends from $138 each. That is a maximum total of 6 tickets that can be purchased by each military member.
There are three different ticket options available for those wanting to visit Walt Disney World:
Walt Disney World 4 Day Military Salute Tickets with Park Hopper Option –  $138 each
Walt Disney World 4 Day Military Salute Tickets with Water Park Fun and More Option – $138 each
Walt Disney World 4-Day Military Salute Tickets with Park Hopper and Water Park Fun and More Options – $165 each
Please note these ticket prices do not include tax. If purchased on base or at Shades of Green, no sales tax will be charged, but tickets purchased at WDW ticket windows will incur sales tax.
The Park Hopping ticket is valid for four days of admission into the four Walt Disney World theme parks (Magic Kingdom, Epcot, Hollywood Studios or Animal Kingdom Park). The Water Park and More option gives guests a total of four visits to a choice of a Disney water park, DisneyQuest Indoor Interactive Theme Park or certain other attractions.
During this offer period, active or retired U.S. military personnel may make a one-time purchase of up to a maximum of six 4-Day tickets (one theme park per day) for family members (including spouse) or friends.  All tickets and options are non-transferable and must be activated and purchased by September 28, 2011. Black out dates exist for these tickets. They may not be used at all between December 27 – 31, 2010, April 17 – 23, 2011 at all Disney World theme parks, and July 4, 2011 at Magic Kingdom only.
Vouchers are available for purchase at Shades of Green and on military bases beginning October 24, 2010, tax free. You must then take the voucher to a WDW ticket window and exchange for a ticket. Tickets are also available for purchase at Disney World ticket windows, but this purchase will be taxed.
Active or Retired Military must show a valid United States Military ID card. Activated members of the National Guard or Reservists must present their orders in addition to a Military ID card. Please contact Shades of Green if you have any questions concerning eligibility.
In addition to the available Walt Disney World tickets, Disneyland will be offering $99 tickets good for 3 days at the two Disneyland theme parks. The same restrictions apply.
Information on Eligibility and Park Passes
These tickets are for active and retired United States Military, including Coast Guard and active members of the Reserves or National Guard, and permanently disabled veterans with a valid military ID card.
If the service member is not present to purchase vouchers/tickets, the spouse or unremarried widow may purchase up to five tickets during the validity period. Military ID required.
The park passes may be upgraded to Seasonal Passes for Florida residents or Annual Passes, with credit toward the upgrade based on the actual price paid.
The No Expiration option cannot be added to these tickets. No other upgrades, such as adding additional days, will be available.
Tickets must be used by the same person on any and all days. They are not transferable.
This offer may not be combined with any other offer.